11 Mortgage 1 Officers Among the Best in the State 
For the tenth-straight year, Mortgage 1 in 2022 was named the top lender in the state of Michigan by the Michigan State Housing Development Authority (MSHDA).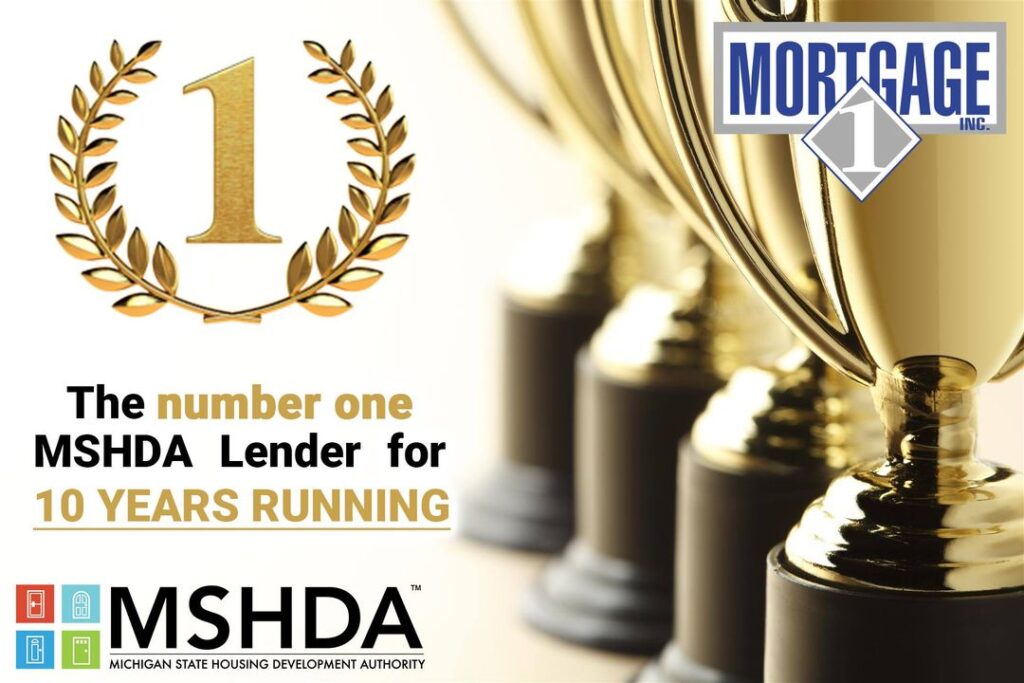 Eleven individual Mortgage 1 loan officers were recognized by the MSHDA as "top producers" for 2022. Top Loan Officer status is determined by annual mortgage production per region.
The 11 Mortgage 1 honorees, in alphabetical order, are:
Mark Copland
Scott DeWolf
Doug Engelhardt
Adam Fuller
Dave Lehner
Matthew Meyer
Joseph Migliaccio
Chris Slating
Lindsey Smith
Adam Tolley
Michelle Wilson
Mortgage 1: The Most Top Producers in the Most Regions
Mortgage 1 had the largest contingent of MSHDA top producers among all lenders in the state. Mortgage 1 was named the MSHDA's MI Home Loan and MI Home Loan Flex top lending.
"When it comes to helping first-time home buyers, we like to think we are the best. This recognition proves it. Mortgage 1 has been Michigan's top MSHDA lender for ten-straight years now. It is something we pride ourselves on. These 11 loan officers deserve the individual accolades they earned. They exemplify everything we strive for every day," says Mortgage 1 CEO Mark Workens.
What the Recognition Means
Each of the honorees will be listed on a special MSHDA web page and will be able to display an icon on their website, on social media and in email that recognizes them as a top MSHDA lender for 2022. They will also receive certificates and plaques signed by the Governor.
The MI Home Loan program is a mortgage product that is available to first-time homebuyers state-wide and repeat homebuyers in targeted areas. All homebuyers work directly with a participating lender.
For More Information
Click here to learn more about the MSHDA MI Loan program or visit the MSHDA website. To locate a Mortgage 1 loan officer near you, visit our Find a Mortgage 1 Loan Officer page.