10 Mortgage 1 Officers Among the Best in the State
For the eighth-straight year, Mortgage 1 in 2020 was named the top lender in the state of Michigan by the Michigan State Housing Development Authority (MSHDA).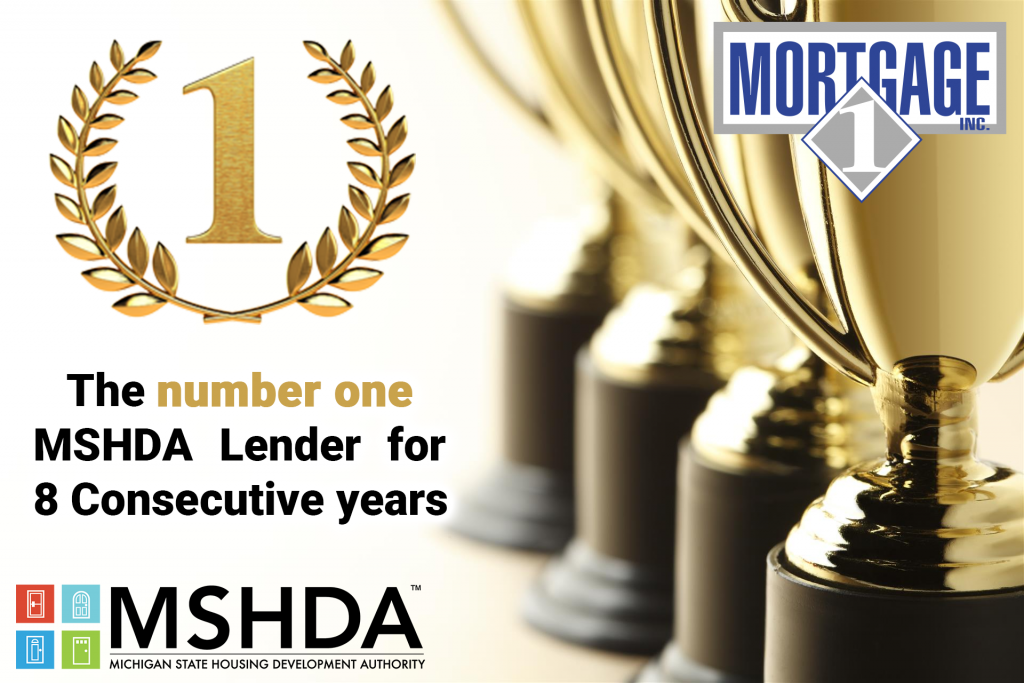 Ten individual Mortgage 1 loan officers were recognized by the MSHDA as "top producers" for 2020. Top Loan Officer status is determined by annual mortgage production per region.
The 10 Mortgage 1 honorees, in alphabetical order, are:
• Steve Caldwell
• Scott DeWolf
• Dan Grzywacz
• Amy Hendrickson
• Dave Lehner
• Kim McClurg
• Joseph Migliaccio
• Chris Slating
• Michelle Wilson
• Hayley Woodworth
Mortgage 1: The Most Top Producers in the Most Regions
Mortgage 1 had the largest contingent of MSHDA top producers among all lenders in the state. Mortgage 1 was named the Top Lending Institution as well as the Top Mortgage Credit Certificate (MCC) Issuing Lender.
Mortgage 1 was represented in three of the four regions tracked by MSHDA, the most of any lender. The only region Mortgage 1 was not cited in was the Northern Region, primarily due to the fact Mortgage 1 does not have lenders in that region.
In announcing the awards, the MSHDA said, "In a year where a pandemic closed major portions of our economy, and saw record refinance volumes, your commitment to provide affordable housing solutions in your communities underscores the importance of products that allow buyers to begin their journey to homeownership. The impact you had was immeasurable. Congratulations to our top lending institutions and loans officers of 2020!"
"When it comes to helping first-time home buyers, we like to think we are the best. This recognition proves it. Mortgage 1 has been Michigan's top MSHDA lender for eight-straight years now. It is something we pride ourselves on. These 10 loan officers deserve the individual accolades they earned. They exemplify everything we strive for every day," says Mortgage 1 CEO Mark Workens.
What the Recognition Means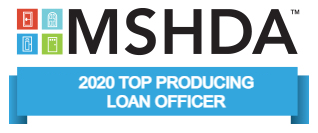 Each of the honorees will be listed on a special MSHDA web page and will be able to display an icon on their website, on social media and in email that recognizes them as a top MSHDA lender for 2020. They will also receive certificates and plaques signed by the Governor.
The MI Home Loan program is a mortgage product that is available to first-time homebuyers state-wide and repeat homebuyers in targeted areas. All homebuyers work directly with a participating lender.
MSHDA MI Loan Program Requirements
MSHDA program features and eligibility requirements include:
• Available for credit scores as low as 640
• The alternative credit review is available for some borrowers who have no credit score
• The minimum down payment is 3% and down payment assistance is available
• Available to first-timers as well as repeat home buyers in economically disadvantaged target areas
• You have your choice of conventional, FHA, VA or USDA loans
• The home has to be your primary residence
• The home sale price limit is $224,500
• There are income limits that vary by location
• The overall debt-to-income ratio of 45% or less
• Borrowers must attend a homebuyer education course if you receive down payment assistance
• Borrowers have to contribute at least 1% of the loan amount.
For More Information
Click here to learn more about the MSHDA MI Loan program or visit the MSHDA website. To locate a Mortgage 1 loan officer near you, visit our Find a Mortgage 1 Loan Officer page.