Whether it's hitting the beach or one of Michigan's many trails or just hanging out with family and friends, Lindsey Smith is always up for an adventure. And that's how she got her start in the mortgage industry – and landed one of the state's most prestigious industry awards.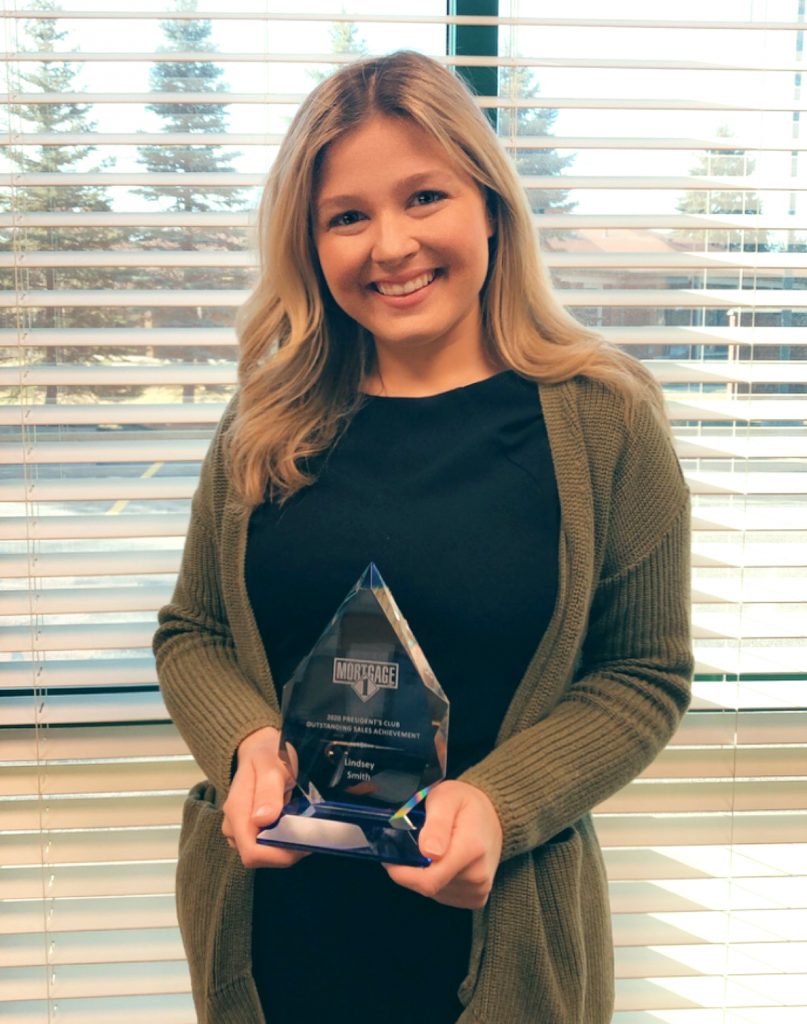 After studying early childhood development and working in a local business' accounting department, being a mortgage officer wasn't really on the map for Lindsey. All that changed quite suddenly.
"I never saw myself in the mortgage business until Mark Workens mentioned the idea and had me interview with the Suburban branch. I was put on Team Doug" – the Keystone branch of Mortgage 1 in Shelby Township.
"Doug Engelhardt has been an amazing mentor. I quickly became excited about the mortgage business, especially helping clients achieve their dreams of homeownership."
Although she's been in the industry a relatively short time, Lindsey's enthusiasm, patience, and honesty have already made their mark; she was named a 2021 Rising Star by the Michigan Mortgage Lenders Association (MMLA). Plus, she received her first Mortgage 1 President's Club award this year.
A big part of Lindsey's success is that she keeps her clients front and center at all times. "The best part of my job," she says, "is knowing I've helped change a family's life. Helping them achieve homeownership makes it all worth it."
Recently, we caught up with Lindsey and talked with her about the real estate market, the mortgage industry, and what she loves about her job.
---
Need help finding the right mortgage?
Get started with Lindsey's digital mortgage app. Or call (586) 295-8472 today.
First off, congratulations on winning the MMLA Rising Star Award!
I'm honored and blessed to win this award! I've put my heart and soul into delivering the best service for my clients and learning all I can about this business. I also have to give a shoutout to everybody at Keystone Branch and Team Doug, including our senior loan officers, processors, and underwriters. They're a hard-working and amazing team!
What's do you wish everyone knew about the mortgage industry?
It's very complex, with different programs, different property types, and – most importantly – borrowers with different situations. No transaction is ever the same, and there's always something to learn. It is very exciting, demanding, and rewarding!
Can you share some advice for first-time buyers?
It's never too early to see where you stand. Many potential homebuyers have no idea where to start when it comes to purchasing a home. Educating yourself and finding a trusted lender is always the first step. Buying a home is generally the largest purchase someone makes in their lifetime, so it's crucial to have an experienced lender and realtor guide you through the process.
What's going on in your local real estate market?
This has been an extraordinary year in the mortgage industry, especially because Covid-19 has had a significant impact on people buying and refinancing homes. The real estate market has been crazy, which has really put a lot of pressure on realtors, buyers, and especially lenders. It's really a seller's market, with homes getting multiple offers before they're even listed. All this is tough on homebuyers – it really takes a great team to help clients smoothly navigate the process.
Finally, what's one thing you love about working as a loan officer?
The mortgage business is full of changes and challenges. It requires quick thinking and problem solving, which I love. But my favorite thing is educating and assisting clients, especially first-time homebuyers. It's more rewarding than I ever could have imagined! Not everyone who applies for a mortgage qualifies at first, so working with clients to improve their financial standing is a big part of what I do. As I said before, helping people become homeowners makes everything worth it.
Find a Mortgage 1 Loan Officer Near You
Mortgage 1 has trusted and experienced loan officers throughout Michigan, Indiana, Kansas, Florida, Ohio, and Montana. Locate a loan officer near you.