Are you considering purchasing a home or refinancing? If so, now is the time to act. Comparatively speaking, mortgage rates are at historic lows, making now the ideal time to buy a new home or a second home, or to refinance your current mortgage for more favorable terms.
Want to take advantage of historically low rates? Get started today with Mortgage in a SNAP!
30-Year Mortgage Rates at Near-Record Lows
Interest rates for a 30-year fixed rate mortgage have been on the decline since November. Rates are reaching lows last seen in January 2018. Rates spiked in November 2018 to over 5%. The overall average rate for 2018 was 4.5%.
Last week, the 30-year rate was 4.12%.
According to Freddie Mac's Primary Mortgage Market Survey, "Mortgage interest rates have been steadily declining since the start of 2019. These lower mortgage interest rates combined with a strong labor market should attract prospective homebuyers this spring and could help the housing sector regain its momentum later in the year."
Mortgage rates had been increasing since 2017 and that trend continued in 2018, especially in the second half of the year. Rates were rising largely due to a strengthening economy. Then, in late 2018, the Fed clamped down on interest rate increases.
The low rates are fantastic news for anyone who is considering buying a home this spring or summer.
"We never thought we'd see interest rates this low again," says Mark Workens, CEO of Mortgage 1. "These low rates are worth taking advantage of for anyone looking to purchase or refinance."
Lower Rates Make Homes More Affordable
The difference between current rates and past rates can have a significant impact on home affordability.
For example, on a 30-year fixed mortgage amount of $200,000, a rate of 5.5% equates to a monthly payment of approximately $1,135.
That same mortgage amount at a rate of 4.5% equates to a payment just over $1,000 a month.
Lower rates not only mean lower monthly payments, they also give buyers more purchasing power, as shown in the table below. Compared to 2018 averages, today's buyers can afford $20,000 more house than last year's buyers.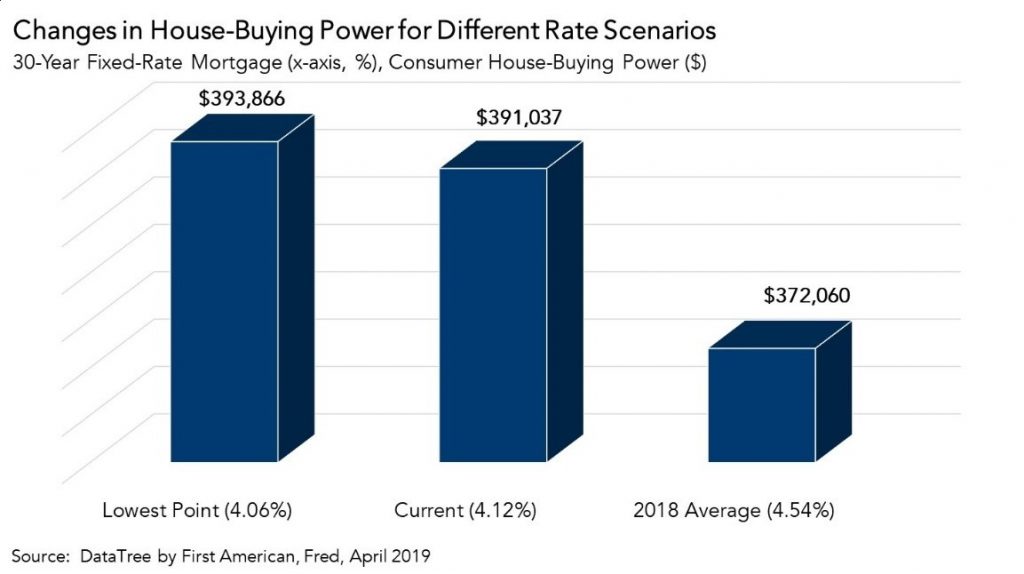 Not surprisingly, home buyers are reacting positively to the lower rates. When rates dipped at the end of March, mortgage applications surged nearly 19 percent, just in time for the busy spring season.
Mortgage applications are up 28 percent from a year prior, according to the Mortgage Bankers Association's seasonally adjusted index.
That makes total sense, says Workens.
"When rates are low, home buyers get more bang for their buck," Workens says. "Now is the ideal time for first-time buyers especially to take advantage of these low rates."
Act Quickly to Take Advantage
To take advantage of these low rates, it's important to act quickly. If you are considering purchasing or refinancing, call us at (866) 532-0550 or use our Mortgage in a SNAP application to get the process started.