We all get caught in the day to day grind, the headline reading, the "Breaking News". Recently Freddie Mac released the average mortgage interest rate 1971 through 2017. The overall average interest over that time was 8.16%, with discount points averaging 1.27%.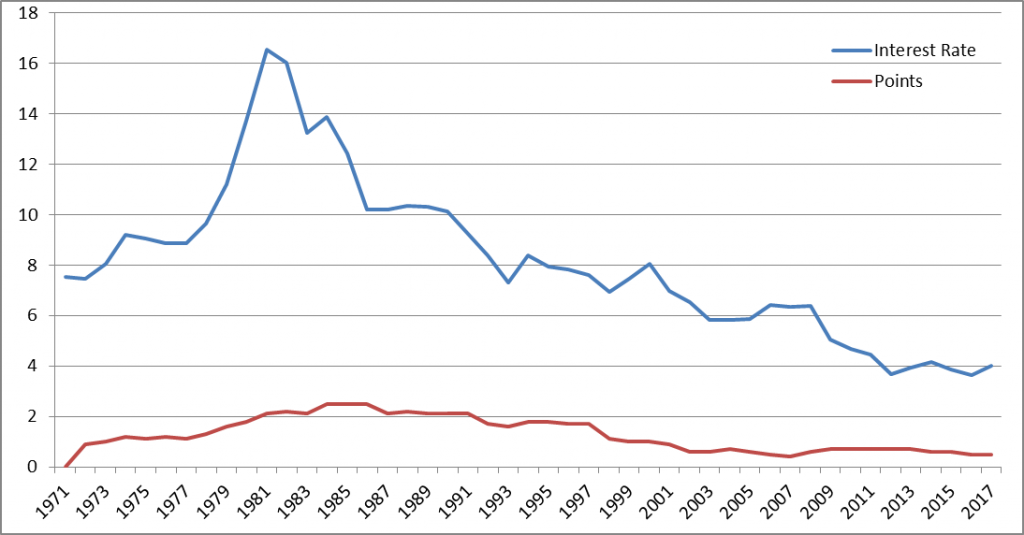 As the Federal Reserve substantial reduces their investment in mortgage-backed securities over the next 18 months, plus the growing economy will contribute to an environment where it is very likely, that interest rates will steadily increase as we go through the rest of 2018. Consumers that are considering buying a home, consolidation of debt or a refinance should expect higher rates the longer they wait to finance a home.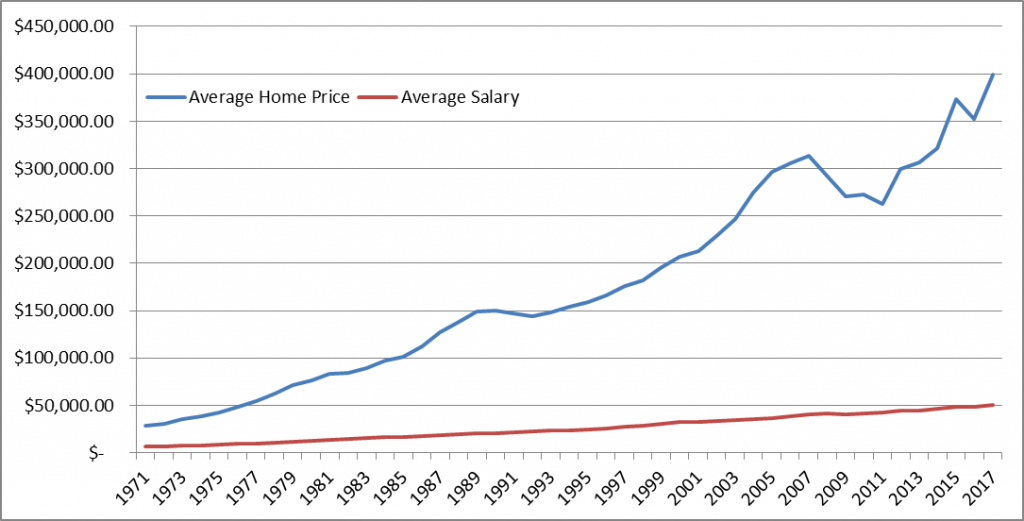 When looking at the cost of homes over the same period of time it is clear that the price of homes has significantly out passed earnings since 1971. When looking at the graph above it is important to remember that the average home size has gone from 1,525 square feet in 1973 to 2,661 in 2017.
Clearly now could possibly be the best time to secure home financing at low rates for the foreseeable future. Home values have fully recovered from the great recession making eliminating Private Mortgage Insurance as easy.
If you would like to start now, try our Mortgage in a SNAP digital option. It is the fastest way to sail through the mortgage process.

SNAP Mortgage enables borrowers to instantly retrieve the required documents and automate the mortgage process. SNAP Mortgage will reduce unnecessary phone calls borrowers would typically receive during the mortgage application process. Mortgage 1 Inc. is already a leader in MSHDA, USDA lending, FHA, VA and Conventional lending, adding a digital application should enhance customer service.
SNAP Mortgage applicants will enjoy:
A true e-signature digital mortgage process.
The ability to compare a variety of loan programs with a click of a button.
Retrieve all required documents (no more searching for statements)
Instantly receive approval on Conventional, FHA or VA mortgage loans.
The Mortgage 1 Inc. team makes the difference with more total years of experience than any other mortgage company in Michigan. SNAP Mortgage will enhance the borrower's experience of a faster loan process from application to closing. "Anyone can offer a digital mortgage. Working with a local, knowledgeable lender like Mortgage 1, Inc. gives the borrower an unparalleled lending experience." Says Mortgage 1, Inc. President Rick Holcomb
Mortgage 1, Inc. continues to focus on automating the application process and SNAP Mortgage is the perfect tool. SNAP Mortgage allows the borrower to experience a fast, user-friendly application process in a digital and mobile environment.