At Mortgage 1, we hold a deep appreciation for community involvement and encourage our employees to partake in acts of giving back. Laura Ciaramitaro, an administrative assistant at Mortgage 1, embodies the selfless character and dedication we seek in our team members. What began as a modest undertaking quickly transformed into a profound initiative, leaving a lasting impact on the community. Little did she know that a simple trip to the fabric store would set her on a heartwarming journey of making and donating blankets to those in need.
"For over 35 years, Laura has been an integral part of the Mortgage 1 team, touching our hearts with her unwavering dedication and selfless acts of kindness. What truly inspires me about Laura is her tireless commitment to helping others on her own accord and without hesitation. Her generosity knows no bounds, and I can confidently say she is one of the most caring individuals I have ever known"

Mark Workens, Mortgage 1 CEO
When Laura initially started this project in October 2022, she aimed to create 50 blankets. However, the assistance of Laura's mother-in-law, Rosemary Lotito, who offered to help with the blankets, allowed her to increase her goal to 100 by April 2023. To their delight, her cousin, Sylvia Krause, and Sylvia's husband, Ken Krause, joined their efforts, propelling the project even further. Let's not forget the invaluable assistance and keen fashion sense of Kaiser, Laura's trusty canine companion. Kaiser faithfully accompanied Laura on every shopping expedition, serving as the ultimate fabric connoisseur. With a watchful eye, Kaiser ensured that Laura selected the perfect color combinations for the blankets destined for donation. His presence added a touch of joy and companionship to each shopping trip, making the entire process even more memorable and enjoyable.
The collaboration and teamwork were instrumental in surpassing their initial expectations, and the team was able to donate over 200 blankets to supporting organizations, including the Salvation Army, Henry Ford Hospital, Friends of Fostercare, the Amelia Agnes Center (a women's and children's homeless center), and the Capuchin Facility.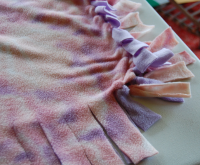 Laura's no-sew fleece blankets are crafted by cutting and tying together two pieces of fabric to create a finished blanket edge without any sewing. They even set up a designated spot in their house for picking up and dropping off the blankets. Talk about being organized! But Laura didn't stop there. With the leftover materials, Laura is spreading more kindness by making baby-sized blankets and blankets for the humane society.
While this was Laura's first time making and donating blankets, she is determined to continue this wonderful tradition. Looking ahead, she aspires to create at least 50 blankets each year, ensuring that the warmth and love extend to those who need it most.
Laura's journey has been immensely rewarding on multiple levels. From selecting color combinations for the blankets to forging new friendships at the craft store, where the staff has become accustomed to the presence of Kaiser, this project has touched every aspect of Laura's life. The support and involvement of her family, including her spouse Mike and their three children, who accompanied her and Kaiser on fabric runs, have made this experience even more special. Above all, the greatest reward lies in the ability to give back to others and to be blessed with the opportunity to make a difference.
Laura believes that giving back not only benefits others but also works wonders for oneself. Participating in acts of kindness and generosity can bring a sense of fulfillment, purpose, and joy. It's about finding something that resonates with your passions and talents and then taking action. Whether it's volunteering at a local charity, organizing donation drives, or utilizing your skills to create something meaningful, every effort, no matter how small, can make a significant impact. So, if you find yourself contemplating ways to make a positive impact, take inspiration from Laura's story and embark on your own journey of giving. Together, let's create a world where compassion and generosity flourish, one act of kindness at a time.
At Mortgage 1, we are committed to assisting our clients every step of the way. Our goal is to ensure that each individual finds a mortgage that suits their unique needs and financial circumstances. Contact us today to get started.