Mortgage 1 Ranks Among Best at Providing Low-Interest USDA Rural Development Mortgages
For the second time in two weeks, Mortgage 1 has been recognized as one of the leading lenders in Michigan when it comes to making quality home ownership affordable.
The newest acknowledgement is from the United States Department of Agriculture (USDA) Rural Development program. It recognizes Mortgage 1 for being one of the top Michigan lenders in the history of the USDA rural home loan program.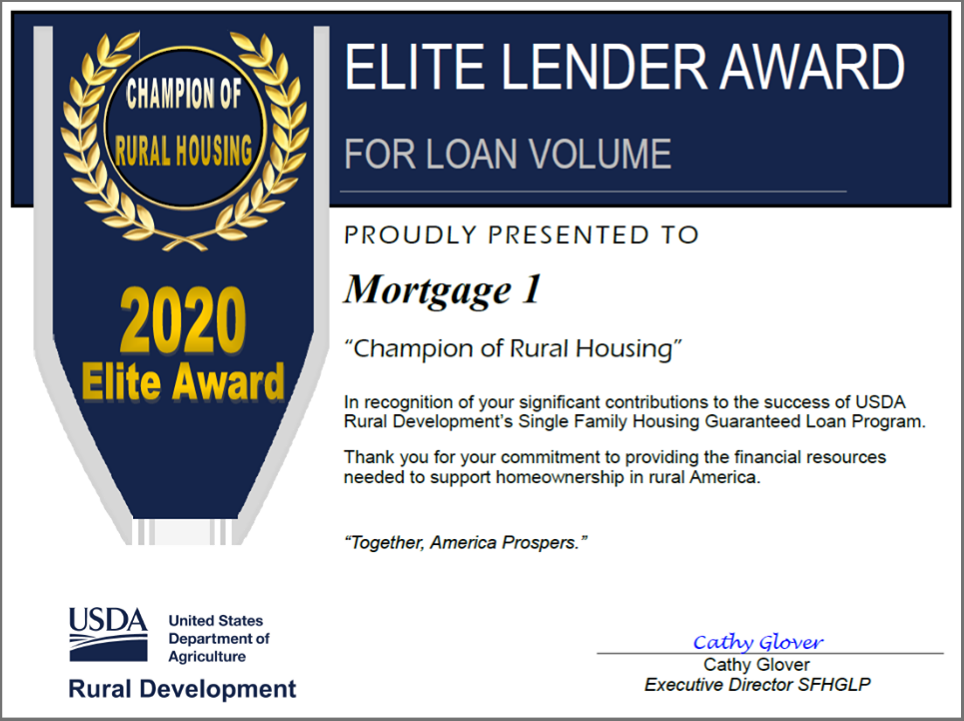 "Working with our partner lenders, USDA is helping rural Michigan families achieve the dream of home ownership," said USDA Rural Development State Director for Michigan Jason Allen. "I congratulate our leading lenders, including Mortgage 1, on their years of commitment to this program."
Mortgage 1 ranks fourth in USDA loans among Michigan lenders over the entire life of the USDA program, which began in 1991. Mortgage 1 began participating in the Rural Development program in 2010, which means Mortgage 1 has achieved more in a shorter amount of time than most other lenders in the state.
"This is a significant achievement."

– Alec Lloyd, Michigan USDA Rural Development office
USDA Loans: Not Just for Farmers
When people hear "rural development," they may think of farmers or ranchers. But the USDA Rural Development program is much more.
Many buyers looking to purchase in outer ring suburbs qualify as rural under the USDA program. Michigan residents of cities such as Rockford or Grand Ledge or Washington Township live in areas eligible for rural development loans.
Rural Development home loans are low-interest, fixed-rate loans provided by the USDA. The loans do not require a down payment. The loans are given by the USDA and obtained through private lenders, such as Mortgage 1, and are meant to promote and support home ownership in underserved areas.
Since the USDA guaranteed loan program began in 1991, Michigan has obligated more than 100,000 loans totaling more than $10 billion, becoming the first state in the country to reach either of these milestones in the USDA program.
In 2019 alone, Mortgage 1 processed more than $33 million in USDA loans. These loans helped nearly 250 Michigan families obtain quality housing they might not otherwise have been able to afford.
Who and How USDA Loans Help
Who is the USDA Rural Development home loan program for?
"USDA programs help people in rural areas where conventional mortgage products are not as commonplace," says Mortgage 1 Senior Vice President and Grand Rapids branch manager Dan Grzywacz. "They are meant to help develop homeownership."
According to Grzywacz, USDA loans are especially suited for:
buyers living or looking in more rural areas who are seeking quality housing
buyers looking for a low-down-payment, low-interest loan
buyers who meet the generous income limit qualifications
buyers who maybe cannot afford a hefty down payment
Advice for Getting a USDA Home Loan: Pick the Right Lender
Scott Reilly, a senior loan officer at the Mortgage 1 Grand Rapids branch, says it's important to choose the right lender if you are considering a rural development loan.
Not all lenders can provide USDA loans.
"Make sure you work with a qualified lender who is approved in the program," Reilly says. "The USDA only works with approved lenders to supply these loans."
Buyers cannot get loans directly from the USDA.
"Make sure you're pre-qualified. And talk to the lender about what it takes to get into this program. There are some qualification requirements. Do your homework up front," Reilly advises.
Helping Buyers as Well as Realtors
The USDA recognition comes on the heels of Mortgage 1 last week being recognized by the Michigan State Housing Development Authority (MSHDA) as the state's top lender in the MI Loan Program, which supports first-time buyers.
Mortgage 1 was named the top MSHDA lender for the seventh straight year. The USDA and MSHDA programs are helpful on several fronts.
"These programs help us reach out to customers who need assistance with down payments. They also help us support our realtor partners who have clients who need assistance," Reilly says.
"We love helping customers buy homes"
In addition to USDA and MSHDA, Mortgage 1 is a leader in other areas of home lending.
"We are a top FHA lender, a top VA lender, a top first-time homebuyer lender," Grzywacz says. "We also help those looking to move up."
Both Reilly and Grzywacz say that, while they enjoy helping homeowners save money by refinancing, home buying is where their passions lie.
"We are a purchase lender. We love helping customers buy homes. Owning a home is a hallmark of stability for people. It feels good to be out there assisting buyers with their home loan needs. We are proud to be able to serve the residents of Michigan," says Reilly.
"Since 1994, Mortgage 1 has grown through relationships. We are held in the highest regard in the mortgage and real estate industries. We believe educating the customer on the best options and offering them the correct loan program is the right thing to do," says Grzywacz.
Click here to learn more about the USDA Rural Development single family home ownership program.
Interested in a USDA Rural Development Loan?
Mortgage 1 is approved to provide USDA loans nationwide in all the states in which we are licensed. To see if you qualify for a USDA Rural Development home loan, connect with a Mortgage 1 loan officer near you by visiting our Find a Mortgage 1 Loan Officer page.