Great news for recent college grads Fannie Mae Announces Big Changes to how they will include student loan payments in mortgage calculations.
Here are some interesting facts on student loans According to the New York Federal Reserve as of the end of last year.
$1.31 Trillion in total student loan debt.
2 Million people have outstanding student loan debt.
2% Student loan default rate
$31 Billion seriously delinquent (90+ days late)
Average student loan debt is $34,000
(As of 4Q 2016, New York Federal Reserve)
Last month, Fannie Mae announced changes to their underwriting requirements that will significantly impact first-time homebuyers with student loan debt qualify for a mortgage.
Calculation of Student Loan Payments based on individuals credit report
The old rule was a hard and fast at 1% of the outstanding balance. Now lenders have an option of using that is being reported on the credit report or 1% of the outstanding balance. It enables lenders to use more realistic figures to calculate the debt-to-income ratio.
Student Loans Paid by Others
If borrowers work for an employer that is making the student loan payments for them lenders can consider that when helping borrowers qualify for a loan. Fannie Mae's student loan changes now allow lenders to take into consideration student loans that are paid by a third party. This widens the pool of first time home buyers that qualify for a home loan by excluding nonstudent loan payments that are being made by others. The Borrower is required to present documentation showing the debt is being paid by another party for the past 12 months.
Cash-Out Refinance and Student loans
Under Fannie Mae's new rules, homeowners with equity in their homes can benefit by paying off student loan debt. Borrowers could benefit with a lower monthly payment of the combined loan and there are tax advantages to having debt secured with real-estate. There is a requirement that at least one student loan be paid in full.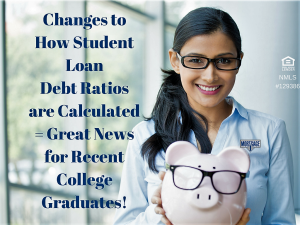 New Student Loan Mortgage Calculations Ready to get started? Try our digital Mortgage called Mortgage in a SNAP