Pictured above, left to right, the team at Metro Mortgage Group of Owosso: Ron Ebenhoeh, Brett Meyer, Kelsy Bacon, Diana Zvonek, Kelly Huff, John Emerson, Charles Dahl, Suzanne Mucsaga, and Jerry Meyer.
Owosso, Michigan is an idyllic place to live.
Nobody knows that better than forty-year resident Jerry Meyer, the founder and president of Metro Mortgage Group, a division of Mortgage 1.
Located in mid Michigan, about halfway between Lansing and Flint, Owosso is the largest city in Shiawassee County and is named after Chief Wasso, an Ojibwa Indian leader.
Owosso is also home to Metro Mortgage Group. Metro is one of the leading mortgage lenders in the Owosso area. They are members of the Shiawassee Regional Chamber of Commerce and Shiawassee Association of Realtors. Meyer also serves as an executive officer of the Home Builders Association of Shiawassee County, a position he's held for 15 years.
"The Metro Mortgage Group is one of our top branches and the top lender in Shiawassee county," says Mortgage 1 CEO Mark Workens. "Jerry is an expert in the new construction market and knows the mortgage business better than most. He and his sons, Brett and Matt, along with their entire team, do a fabulous job."
Metro Mortgage also has offices in Ludington and Chesaning. The team's commitment to customer service is exemplified by their perfect five-star Google rating from their many satisfied clients.
Looking for a house in the Owosso, Ludington or Chesaning areas? Get pre-approved today with Mortgage 1's online application. Start today!
Real Estate and Mortgage Advice from Metro Mortgage Group's Jerry Meyer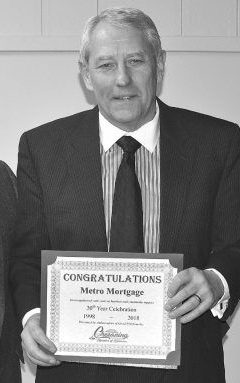 We interviewed Metro Mortgage Group founder Jerry Meyer recently to learn which trends are driving the real estate market in Owosso and how mortgage lenders like his team are helping home buyers respond. Here's what he had to say.
Housing Trends: Lack of Inventory
Meyer says the most significant housing trend he is seeing is lack of inventory. "It's a seller's market. That means houses are spending fewer days on the market and sellers are getting multiple offers. Sellers are sometimes getting more than their asking price."
New construction is hot in the Owosso area, so Meyer and his team are writing a lot of new construction loans.
Mortgage Trends: Repair Escrows, Fixed Mortgages & Low Rates
Another lending trend Meyer is seeing are repair escrows. A repair escrow is an account set aside at closing to pay for the repairs a property needs to reach its full appraised value. The higher appraisal then allows the lender to increase the loan amount, provided the buyer has adequate income to cover the increase. The extra money from the lender is put into an escrow account created at closing to pay for the needed repairs. When the work is completed, the funds are released and the escrow is closed.
Meyer says his team is writing mostly fixed rate loans. With mortgage rates near 50 year lows, he tries to avoid putting clients into variable rate loans that are only going to go up. "I don't want to get people in trouble down the road," he says.
Low mortgages rates are helping with affordability indexes. The Housing Affordability Index measures whether or not a typical family earns enough income to qualify for a mortgage loan on a typical home at the national and regional levels based on the most recent price and income data.
Advice for First-Time Buyers: You Don't Need 20% Down

Meyer's advice for first time buyers is: "you don't need a 20% down payment." His team offers three different types of "0 down" loans — VA, USDA and FHA with a family gift. He also reminds first-time buyers that a house is still a great investment over the long term. As a home appreciates in value, that appreciation is tax-free.
Jerry Meyer's three most important pieces of advice for first time buyers:

1. Get prequalified before you start looking at houses

2. Clean up any credit issues up front to get the best terms

3. Present your income documentation early in the process so you know how much you qualify for
Advice for Those Moving Up: Bridge Loans
For second-time buyers and those looking to move up, Meyer says his team can do a bridge loan to help bridge the gap between buying and selling. A bridge loan is a type of short-term loan, typically taken out for a period of one to three months. It is used to bridge the time span between when someone buys a new house but has not yet sold their existing house. Money from the sale is then used to pay back the bridge loan.
Choosing a Mortgage Lender: "Biggest Decision of Your Life"
When it comes to choosing a mortgage lender, Meyer says is it "the biggest decision of your life; you need to get it right."
"You need a knowledgeable and trustworthy lender to get the correct and best program and terms and to manage the complicated details of buying and financing," he says.
That's why Meyer likes being part of Mortgage 1. "Mortgage 1 allows us to offer the best execution in the industry. We provide quick, in-house underwriting; a timely closing documentation process; a wide range of programs; and great management," he says.
"We are part of a team (at Mortgage 1) that is the number one Michigan State Housing Development Authority (MSHDA) lender, number one federal housing administration (FHA) lender, and number two rural development lender."
Find Your Owosso Dream Home
Interested in a home in Owosso or Ludington? Get started with a pre-approval from Jerry Meyer and his team at Metro Mortgage Group. Got a question? Call the Owosso office at (989) 472-1193 or the Ludington branch at (231) 425-5555. You can also visit them online at http://www.metromtg.com.