Should you buy a house in 2020, a presidential election year?
Financial forecasters love election years. How will the stock market do? Should you buy or sell? Real estate forecasters are no different. What's the housing market like? Are mortgage rates rising or falling?
As a consumer, it can be confusing. Luckily for you, we've compiled insights summarizing what experts say about buying a house in an election year.
THE BOTTOM LINE CONSENSUS: 2020 is a great time to purchase a home or refinance. The economy is strong, mortgage rates are low, and new construction is booming. Don't miss out on the unique opportunities today's real estate market offers.
To get started with a new home loan or a refinance, use Mortgage 1's online application. It's easy, secure and convenient.
Why You Should Buy a House During an Election Year
Should you buy a house this year? That question can be answered by analyzing the three primary factors that go into house buying:

1. Mortgage rates

2. Housing prices and availability

3. Overall health of the economy
Mortgage Rates: "Buyers Have Never Had It So Good"
Mortgage rates remain incredibly low. Jerry Meyer, the president of Metro Mortgage Group in Owosso, a division of Mortgage 1, summed it up best recently when he observed that today's 3-4% mortgage rates are at 50-year lows. "Buyers have never had it so good," he says.

We gathered some data that confirms his observation. Check out the chart below. It shows 30-year fixed mortgage rates going back to 1970.

The dominant theme here? Election years don't matter. Mortgage rates have been on a steady decline since 1981. The period when rates were really high in the late 1970s through early-1980s were a time of high inflation, high unemployment and a stagnant economy. None of that applies today.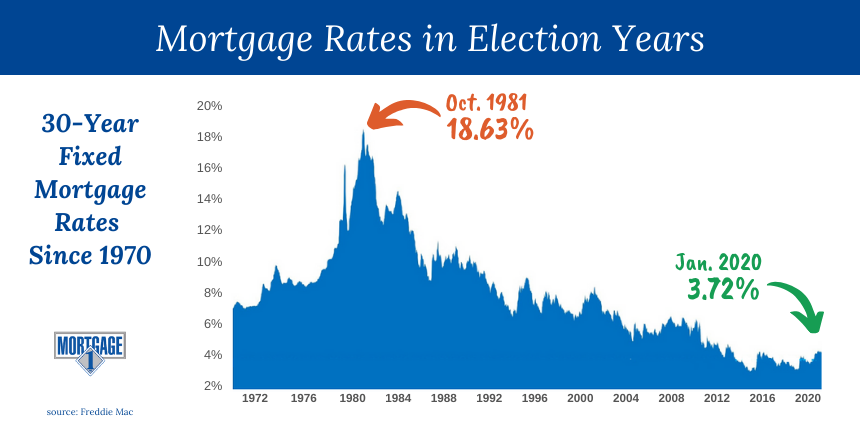 If you plan on staying on the sidelines until after November 4 to get a mortgage, you might want to reconsider. There are bigger forces at play.

When it comes to mortgage rate predictions for 2020, most economists project the Fed will keep rates flat for the whole year, and the 10-year Treasury yield – which mortgage rates tend to follow – is likely to remain flat as well. That's good news for homebuyers, and even those looking to refinance. Michael Fratantoni, chief economist at the Mortgage Bankers Association, says rates for 30-year mortgages should be little changed: "An average of 3.7 percent – right where they were in 2019."

Housing Prices: Lower Prices in Election Years
During election years, housing prices are lower.

According to a study by movoto.com, house prices typically rise 1.5% less during an election year than in the year prior to the election, and 0.8% less than in the year following the election.

Financial analysts Greenfield Advisors found a similar effect. Using the Freddie Mac House Price Index, they found that housing prices rose more in non-election years than in election years (see the table below).
Data from http://www.freddiemac.com/finance/fmhpi/archive.html
The Overall Economy: Strong and Stable
The U.S. economic outlook is healthy for 2020, according to key economic indicators. The most critical indicator is the gross domestic product, which measures the nation's production output. The GDP growth rate is expected to fall below the 2% and 3% ideal range. Unemployment is forecast to continue below the natural rate. There isn't too much inflation or deflation. That's close to a Goldilocks economy.

Cast Your Vote: Buy a House in 2020
Don't stay on the sidelines during the election season, not while mortgage rates remain low and other economic indicators are favorable. Get started on a refinance or a new home loan today with Mortgage 1's online application.